The Co-operative Bank
Updated
Low-interest starting from 14.50%
Debt consolidation loans up to $30,000
Repayment up to 5 years
In-page navigation
---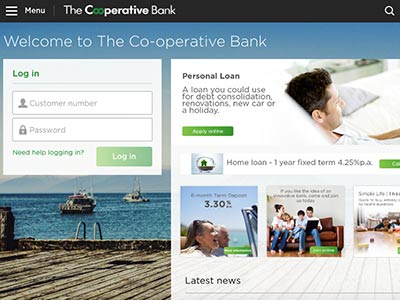 About The Co-operative Bank
As a bank that has been in the business for many years, we have the expertise, the infrastructure and the speed to get your loan approved quickly and effortlessly - and you don't even have to leave your home to do it.
Apply for a loan online using our simple application form and get assistance from our dedicated staff members whenever you need it.
We understand where you're coming from
With prices increasing at an uncountable rate - New Zealanders are finding it harder and harder to afford the repair to their homes, electronics, furniture and even day-to-day living expenses. At The Co-operative Bank, our goal is to allow people to have that financial freedom they had just a few years ago and offer some of the most competitive online personal loans.
Apply for a loan online using our simple application form
If you're tired of working with lenders who simply don't understand you then it's time to switch to a lender that does - switch to the Co-operative Bank.
We make an effort to build a long term relationship with clients where we get to know you and understand your needs on an individual basis.
Our debt consolidation loans
We offer loans from $3,000 to $30,000 and offer some of the most competitive rates on the market from as low as 14.505 per annum. If you're looking to become financially free and get out of debt without having to work too hard to do it our debt consolidation loans will do the job!
The Co-operative Bank Product Details
Loan Type

Debt consolidation loans

Interest Rate

14.50 – 19.50% p/a

Loan Amount

up to $30,000

Repayment

12 months to 5 years

Decision

2 hours
How to Apply at the Co-operative Bank
Like most lenders, we do have certain minimum requirements and we do require our applicants to provide us with documents to support their application but, we do away with red tape and make things simple!
Our versatile personal loans
Whether you're looking for a loan for consolidation or to upgrade your home furniture - the most convenient and affordable way to get it is by using a personal loan. Our loans meet a variety of different needs from the most mundane to the most serious - it's all processed as a top priority.
Adjusting your loan to meet your needs
Although our affordability checks are quick they are very accurate and will immediately give us an idea of how much we can lend you. Although you are free to select our own fast loan amount and term we may adjust this to better suit your income and budget.
Everything we do is according to the book
There are so many scams happening of late. Therefore, it is important that you ensure the company you are in a contract with a registered company and not just mediocre people that don't seem to understand the work. Due to the fact that we maintain honesty, dignity and transparency, we also expect our clients to do the same. No relationship will work if there are only participants from one side of the group. A collective effort is better than individual effort.
All applicants are welcome
We will never stop you from applying for credit. Whether you have a bad credit history or not the perfect credit profile, we will consider your application. If we see that you can handle the loan amount, we will grant your application successful.
On the other hand, if the figures are not corresponding as far as affordability is concerned on our side, we will have no choice but to turn down your application. Instead, we will advise you to pay off certain debts first and settle them and then you can come and try applying for credit with us again. Our doors are always open for our customers.
Customer Reviews & Testimonials
"
The Co-Operative Bank has such an easy and hassle-free loan application process. After I completed my debt consolidation application loan, I was notified on the same day of the status of my loan....
Caroline R
— Clive —
I was looking for a debt consolidation that wouldn't hide certain information from me. When I realized that the Co-Operative Bank is a straight forward credit provider that doesn't come with any ...
Jazmine L
— Clyde —
When I was assisted by one of your consultants, it felt like I was helped by one of my friends. I was treated with the outmost respect, professionalism and care. It felt good to see that there ar...
Alister R
— Coatesville —
My schedule allows me very limited time to be on the phone or computer. When I needed a debt consolidation, I worried that the process might take up too much of my operational requirements time. ...
Christoper U
— Clinton —
The Co-operative Bank Contact Details
Contact Number
E-Mail
Website
Physical Address
Corner of Vine and Bank Sts

Whangarei

Northland

0110

New Zealand
Opening Hours
Monday

09:00 – 17:00

Tuesday

09:30 – 17:00

Wednesday

09:00 – 17:00

Thursday

09:00 – 17:00

Friday

09:00 – 17:00

Saturday

– Closed

Sunday

– Closed