Gold Band Finance
Updated
Low-interest starting from 17%
Business loans up to $200,000
Repayment up to 5 years
In-page navigation
---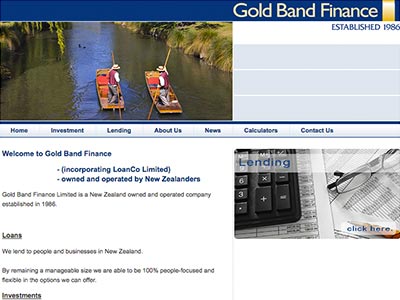 About Gold Band Finance
While most online lenders claim to be different very few can actually back up their claims with cold hard facts.
At Gold Band Finance we offer online banking and lending services at incredible speeds with low rates and flexible terms and conditions that simply can't be matched by traditional banks who are still reluctant to see out of the box.
A lender that does things differently
As a lender that operates online, we are able to offer you a range of benefits that your local bank can't. From faster turnaround times to much less stringent online loan application requirements we do things faster and in a much simpler way whether we're working with a big manufacturer or a small takeaway.
What Gold Band Finance can offer you
At Gold Band Finance we offer competitive business loans to New Zealanders and also offer a range of high-interest savings accounts with term investment rates as high as 5.65%.
We also offer personal loans that are affordable enough for just about anyone to afford.
We specialize in business finance
While many lenders offer business loans - Gold Band Finance is a business finance specialist that can offer you better quality loans that actually meet your business needs. Being a specialist we're able to offer loans that are more precise, more affordable, and definitely more customized - which means we get it right and so does the customer.
Gold Band Finance Product Details
Loan Type

Business loans

Interest Rate

from 17%

Loan Amount

up to $200,000

Repayment

6 months to 5 years
At Gold Band Finance we offer online banking and lending services at incredible speeds
At Gold Band Finance you can apply for a business loan online and we will get back to you with a decision within 24 hours.
We offer both secured and unsecured loans, asset finance, plant, vehicle, and machinery finance which is designed to offer you the most flexible and affordable finance solution for your business.
Contacting us for assistance
If you require any assistance when completing the online business loan NZ application please contact us by calling us, filling in our contact form, or sending us an email. One of our expert loan managers will then answer any of your questions and ensure that your application is completed accordingly.
Getting the amount you need from our loan calculator
Yes, we offer you the loan calculator to help you find the perfect loan for your business. Helping you get the loan that you need and want. Once you have decided on the amount that you would like to loan using the calculator you can just quickly apply now. Using the calculator will tell you how much you will be paying per month and for how long you will be paying your loan off and the best part is that you can decide for yourself.
Filling in your application
Please make sure that when you fill in your application that you give all of the information needed about your company and also note that we loan up to the amount of R5000 and no more. Please make sure that you attach all documents when sending your application in. If your company makes it past the first process we will contact you and you may need to fill in extra documents depending if we need further information about your business loan.
Our interest rate ranges from
If you are to lend the amount of R5000 our interest rates would be 6.15 for 5 years and 6.10 for four years and 17% for 5 years.
Customer Reviews & Testimonials
"
My application was done online and what a quick response I was approved within a few hours.
Kenneth T
— Christchurch —
When I applied for my loan got response quick service couldn't have asked for better.
Margret E
— Gisbrone —
Gold Band Finance Contact Details
Contact Number
E-Mail
Website
Physical Address
6 Sir William Pickering Drive, Burnside,

Christchurch

8053

New Zealand
Opening Hours
Monday

08:30 – 17:00

Tuesday

08:30 – 17:00

Wednesday

08:30 – 17:00

Thursday

08:30 – 17:00

Friday

08:30 – 17:00

Saturday

– Closed

Sunday

– Closed