Low-interest starting from 547.50%
Loans bad credit up to $5,000
Repayment up to 52 weeks
In-page navigation
---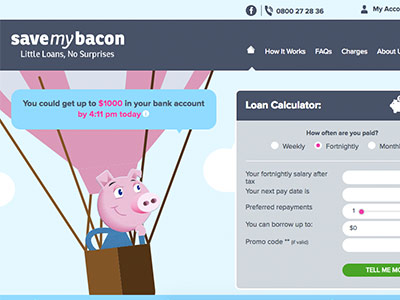 About Save My Bacon
If you are in a financial whirlwind and need the season of bad debt to change for you, Save my Bacon's bad credit loan might just be the right answer for you.
When Save my Bacon started operating in NZ in 2010, they kicked off with a promise to always bring honest and transparent financial solutions to their customers. This has been their goal throughout and applies to all their financial solutions including their bad credit loans.
Still to this day Save my Bacon keeps its promise and strives for improvement at every opportunity.
Responsible bad credit loans
All too often mainstream lenders are giving customers loans that they actually can't afford. This creates even more debt and puts people in financial turmoil.
At Save My Bacon they do things differently. They make sure that you get the loan you need and that you can afford it. Borrower welfare is something that is very important to them. They will never agree to anything that will put their customers in a worse financial position.
When taking a bad credit loan from Save my Bacon you can rest assured that they made sure you can afford it.
Save My Bacon for your bad credit loan needs
With technology ever-evolving around us, it is easy to understand that more and more people are turning to online solutions for their financial problems.
There is a great need for ease and convenience and there is no more convenient solution than to be able to apply for a loan online. Save my Bacon wants to make it easier for the people of New Zealand to find solutions to their problems.
They strive to better people's finances and are proud to say that since they started they have approved more than 220 000 loans.
What Save My Bacon can offer you
When it comes to serving their customers, Save my Bacon is always on a mission to improve. They deliver outstanding service to their customers every time.
When you decide to get a bad credit loan from Save my Bacon, you can be sure that you will be treated very professionally and with an understanding of your situation. They aim to maintain a standard of excellence. They are constantly looking to improve their service as well as offer their customers more personalized products and services.
What makes them different from other lenders
At Save My Bacon they have their own way of doing things. They use their own unique credit-scoring model. They have been tried and tested and it works.
When you apply for a bad credit loan, your credit history is often the highlight. With the credit-scoring method at Save my Bacon, they are interested in your current financial position.
As long as you are able to afford the repayments, they will be happy to assist you with a loan for bad credit. Get an affordable bad credit loan from a company that puts its customers first and believes that people need an equal chance at financial change.
Fast and transparent loans for bad credit
When you apply for a bad credit loan, the last thing you want to do is wait for an answer. Save my Bacon has a fast turnaround time because they realize that time is of the essence.
They don't only give you a bad credit loan, but they will also establish a relationship with you as their valued customer. Save my Bacon believes in building trust and they are continuously striving to bring you better service and more convenient ways of getting the financial help that you need.
They also believe in open and honest ethics. You will not find any hidden fees or unclear terms with Save my Bacon.
Save My Bacon Product Details
Loan Type

Loans bad credit

Interest Rate

from 547.50%

Loan Amount

up to $5,000

Repayment

1 week to 52 weeks

Decision

48 hours
Save My Bacon offer low interest rates and flexible loans
With them, you will always know what to expect as they believe in 100% transparency.
The requirements for a bad credit loan from Save my Bacon:
You'll need to be a New Zealand citizen, Have permanent residency, or have a work visa.
You will have to be at least 18 years or older.
You will have to prove that you have an active bank account.
Proof of regular and consistent income will be required.
Proof of an active email account.
An active mobile number.
You need to supply a verifiable form of identification.
Here are the easy steps to follow to get a bad credit loan:
Step one:
The first step is to use their handy online bad credit loan calculator. With this tool, you will enter the amount you would like to borrow and the number of repayments you prefer.
The bad credit loan calculator will then give you an estimate of what you are looking at before you apply. If you are happy with the amount you can hit the apply now button and start your bad credit loan application online.
Step two:
Complete your easy bad credit loan application within less than 10 minutes. Make sure you complete the application accurately.
Your personal, as well as your credit information, will be verified as part of the application process. This includes getting credit information from several credit reporting agencies.
Step three:
Once everything has been completed and verified, Save my Bacon will be able to make a decision on your bad credit loan in no time. On approval of your bad credit loan, you will be required to sign your loan documents online. This is done through reliable security technology to ensure your information is kept safe at all times.
Step four:
Save my Bacon is proud to say that once your bad credit loan is completed and approved, the funds are transferred to your account the same day.
By choosing Save my Bacon you can become financially free
Many lenders lure customers with promises of low interest and great offers only to have hidden costs. This often gets people indebted even further.
With Save My Bacon you know exactly what you get. Their core promise of giving you a bad credit loan in New Zealand you can afford and being completely open and transparent is their pride. You will never wonder what to expect as they strive to always keep you in the loop.
Some of Save my Bacon's benefits
Save my Bacon is innovative and digital.
They make quick credit decisions.
Their service and products are clear and transparent.
Save my Bacon builds lasting relationships with their customers.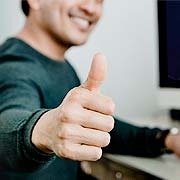 Save My Bacon is a trusted & reliable provider of loans bad credit
In our review, Save My Bacon adheres to the compliance criteria in accordance with Credit Contracts and Consumer Finance Act (CCCFA), where the granting the loan will not cause financial distress to the consumer.
Save My Bacon is a registered credit provider in New Zealand: FSP41567
Customer Reviews & Testimonials
"
I was never a fan of making use of financial lenders in the past but when I was faced with an economic problem that I did not know how to deal with, Save My Bacon was there for me and really did ...
Owen R
— Bunnythorpe —
There is no greater satisfaction than knowing you are in trusted and capable hands. From when I first began my journey with Save My Bacon I knew that I was in the hands of expert and professional...
Ryan
— Auckland —
Borrowing done in a hassle-free, paper-free and stress-free manner is something that I can get behind! Save My Bacon runs highly recommended on my list!
Quentin B
— Cambridge —
I have been struggling to get a bad credit loan from mainstream lenders for a while now. A friend told me about Save my Bacon and I decided to give them a chance. I was amazed at how easy and con...
Lee A
— Napier —
We were getting into financial trouble faster than we could have known. When we heard about the bad credit loan from Save my Bacon, everything started changing for us financially. We are recommen...
Watson T
— Queenstown —
I was searching the internet one evening for a solution to my financial problem when I came across Save my Bacon. Their website was so informative and it had everything I needed to know. I applie...
Harris R
— Wellington —
Save My Bacon Contact Details
Contact Number
E-Mail
Website
Physical Address
Level 3, 50 Victoria St

Central Christchurch

Canterbury

8013

New Zealand
---
Postal Address
PO Box 8496, Riccarton, Christchurch, 8440, New Zealand
Opening Hours
Monday

08:00 – 17:00

Tuesday

08:00 – 17:00

Wednesday

08:00 – 17:00

Thursday

08:00 – 17:00

Friday

08:00 – 17:00

Saturday

– Closed

Sunday

– Closed