Rating based on 971 reviews
---
Save My Bacon
Save My Bacon is a Registered Financial Service Provider / FSP41567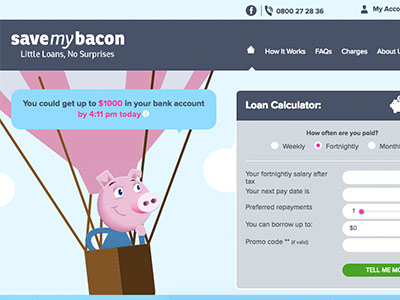 About Save My Bacon
Having served Kiwis with affordable personal loans for a number of years, we have the experience to serve you with just the right product, at the right rate and term.
Save My Bacon offers you a flexible lending service which you can make use of online - 24 hours a day, 7 days a week!
Why we're so loved by customers
We are one of the most respected and loved alternative credit providers in New Zealand. We could say that this is because of our flexible loan terms and competitive interest rates but, we believe that it's because of our dedicated staff who provide top-notch customer service from start to finish for each and every valued client.
What Save My Bacon can offer you
Whether you're a recent university graduate whose working for minimum pay or a single parent working long hours - money can be tight and when something unexpected comes up you may find yourself simply unable to cope.
This is where we come in. We offer affordable quick loans to New Zealanders to help deal with scenarios such as these.
Our payday cash loans
Our bad credit loans range from $100 to $1,000 and we offer loan terms that range from 10 to 42 days. Save My Bacon allows customers to repay their loan early with no penalty and are proud of our flexibility and fantastic customer service.
---
---
In a Nutshell
Average processing time 48 hours
Online application
Unsecured loan option
Bad credit consideration
Early repayment
---
At Save My Bacon we have low interest rates and flexible loans
Are you tired of having to wait in a queue at the bank every time you need to take out a small cash loan? Well, now you don't have to.
Applying for a bad credit loan will take a few minutes and you can have the money in your account within a few hours!
Think you need a loan today?
If our services and products seem to be hitting the right spot then it's time to make your way to our website to complete your online loan application.
Our loans are designed to fit into virtually any budget
You can choose a loan term that ranges from 10 to 42 days and a loan amount of up to $1,000. If you want lower monthly instalments than you need to choose a longer loan term. If you want to pay less in interest you must select a shorter loan term.
Technology can never replace the human touch
Even with the advancement of technology, we will never be able to replace the intimacy of the human touch. If you are the type of person that prefers to handle your finances face-to-face then feel free to contact us to mull things over either over the phone or by popping into one of our branches. Our staff are all experts in their respective fields and go for continuous training in order to ensure that they are able to provide you with the very best service possible. For friendly, professional and expert finance turn to Save My Bacon. We are here to help you to gain access to the financial assistance you deserve.
Unsecured loans – what does this mean for you?
When applying for an unsecured loan the borrower is not required to provide any form of collateral or security. This means that the loan does not have an asset secured against it. Although unsecured loans do not have large borrowing amounts like secured loans, they do allow non-homeowners the opportunity to obtain finance. Unsecured loans also generally have higher interest rates but this is something that can be combated by taking the highest affordable repayment plan in order to repay the loan faster than what the interest can accumulate.
---
Eligibility & Requirements
18 years or older
Employed full-time
Earning a stable income
Credit check
Recent pay slips
Bank statements
---
Other Products & Services
Online-Loan
Unsecured-Loans
Short-Term-Loan
Cash Advance
Fast Cash
Instant Cash Loans
Instant Loan
Next Payday Loan
Paycheck Loan
Payday Loan
Payday-Advance
Payday Cash Advance
Personal Loans
Quick Cash
Same Day Loans
Bad Credit Personal Loans
Specialist Online Loan
---
Customer Reviews & Testimonials
I was never a fan of making use of financial lenders in the past but when I was faced with an economic problem that I did not know how to deal with, Save My Bacon was there for me and really did save my bacon! I will definitely recommend them!
Owen R
— Bunnythorpe —
There is no greater satisfaction than knowing you are in trusted and capable hands. From when I first began my journey with Save My Bacon I knew that I was in the hands of expert and professional employees.
Ryan
— Auckland —
Borrowing done in a hassle-free, paper-free and stress-free manner is something that I can get behind! Save My Bacon runs highly recommended on my list!
Quentin B
— Cambridge —
Previous
Next
Address
Physical Address
Level 3, 50 Victoria St

,

Central Christchurch

,

Canterbury

,

8013

,

New Zealand
Postal Address
PO Box 8496, Riccarton, Christchurch, 8440, New Zealand
Opening Hours
Monday 08:00 – 17:00
Tuesday 08:00 – 17:00
Wednesday 08:00 – 17:00
Thursday 08:00 – 17:00
Friday 08:00 – 17:00
Saturday Closed –
Sunday Closed –