Rating based on 1,354 reviews
---
Crester Credit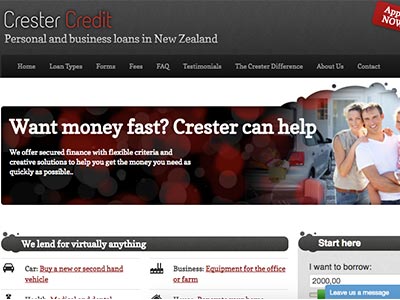 About Crester Credit
We've helped thousands of Kiwis access personal cash loans when they needed it the most.
As a well-established lender that is registered with the government, customers can rest assured that they're dealing with a reputable lender that will never take advantage of them or overcharge them.
Why we're in a class of our own
Everything about Crester Credit is unique. From our loan products and rates to the way we deal with customers - it's fair to say that we're simply one in a million! With us, you can get a small quick loan from the comfort of your own home and have it transferred to your bank account in just hours.
What Crester Credit can offer you
We certainly live in difficult times with fuel, electrical and grocery prices skyrocketing and constantly leaving us broke and unable to do the things that we really need and want.
We offer bad credit loans that you can apply for online to help you deal with such problems. Don't let cash flow problems get the best of you - fight back with an affordable loan!
Get as much as $15,000
At Crester Credit we resemble a bank more than we do other online lenders that help people with bad credit. We off personal loans of up to $15,000 and have longer loan terms of up to 3 years. Our annual interest rate is 22.95% and we allow customers to pay over the term of up to 3 years.
---
Interest Rate
From 0 %

To 0 % Per annum
---
---
In a Nutshell
Average processing time 1 hour
Online application
In-store application
Secured loan option
Bad credit consideration
Early repayment
---
We strive to help you get a flexible bad credit loan
Prior to beginning your loan application it's a good idea to evaluate your income and expenses to determine how much you can afford to repay each month.
Once you know this figure it's much easier to select your desired loan amount.
A stress-free online loan application
When people hear the word "application" they immediately expect the worse. With images of mounds of paperwork and supporting documents, many people believe that taking out a loan is something complicated and stressful but, with Crester Credit it is anything but complicated and stressful. You can take out a bad credit loan online in just a few minutes - no paperwork, stress or time-wasting involved!
Our loan application process is ideal for someone who does not have the time, patience or inclination to spend hours of their lives filling out forms and standing in line at the bank to get something done.
How to apply for a Crester Credit loan
We at Crester Credit take pride in the fact that our online application process is quick and easy taking you on average just about 8 minutes to complete the online form. From there, our clients need only upload a form of ID (passport, driver's license, 18+ card, etc.) and provide us with your current (stable) address.
Processing time and pay-out
Once our applicants have submitted their online application along with their ID and address, one of our dedicated team members will be in touch within 60 minutes (during business hours, Mon-Fri 08:30 am – 5 pm) and clients can expect their money to be paid out into their bank account within 24 hours.
Rates and fees to note
All applicants should be made aware that there are fees they should take note of when applying for a loan with any lender company, Crester Credit included. Such rates and fees include:
Our interest rate ranges from 13.95% to 26.98% per annum
A default interest rate of 10% will be added to all repayments that are in arrears
Loan establishment fee (amount dependent on loan amount)
Registration fee (dependent on loan type)
$6 Administration fee
$50 Variation fees (applicable when terms of an existing loan are changed)
Full prepayment fees
---
Eligibility & Requirements
18 years or older
NZ resident
Employed full-time
Credit check
Recent pay slips
Bank statements
---
Other Products & Services
Personal loans
Bad credit loans
Vehicle loans
Business loans
Debt consolidatoin Loans
Health and medical loans
Home Renovation Loans
---
Customer Reviews & Testimonials
Been a long-time client and can honestly say I didn't think it was possible but it just keeps getting better! Such a great service.
Devon B
— Dunedin —
I got my loan the day after I applied. Such a speedy service definitely will recommend to others
Trish W
— Christchurch —
Really easy and convenient experience. Crester was able to help me when I was in a bind with a spontaneous family getaway. Appreciate the service and friendly staff!
Monica D
— Christchurch —
Previous
Next
---
Here's a short video about Crester Credit
---
Address
Physical Address
3 Shirley Road

,

Christchurch

,

Canterbury

,

8013

,

New Zealand
Postal Address
PO Box 1730, Christchurch, 8013, New Zealand