Rating based on 1,242 reviews
---
Admiral Finance
Admiral Finance is a Registered Financial Service Provider / FSP 9421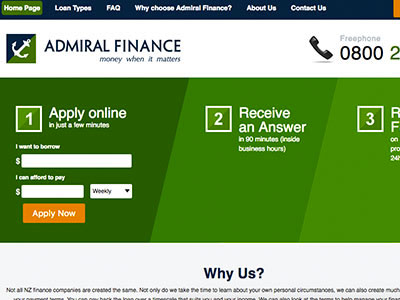 About Admiral Finance
At Admiral Finance we care about our customers and we strive to help those of them who have bad credit access money when they need it.
We are a reliable and transparent payday loan provider that will always ensure you understand the processes and costs involved in taking out a loan.
Refined, fast And simplified processes
Our application processes are refined, fast and simplified and customers can enjoy all this online. Whether you're looking for a small loan or a bigger loan for debt consolidation - we can provide you with the most flexible loan.
What Admiral Finance can offer you
At Admiral Finance we offer customers who have poor credit these fantastic and flexible loans which can be used to consolidate debt, pay bills and make large purchases.
Even though we cater to people with a poor credit history our rates are very reasonable and our personal loan terms allow for affordable monthly installments.
Loans from $5,000
We offer secured cash loans that range from $5,000 to $50,000 at an AIR of between 13.95% to 24.95% per annum. No matter what you needs, budget and income you can afford a bad credit loan from Admiral Finance since we have one of the most flexible loan terms on the market.
---
Interest Rate
From 0 %

To 0 % Per annum
---
---
In a Nutshell
Average processing time 24 hours
Online application
In-store application
Secured loan option
Bad credit consideration
---
We can help you lift the finacial strain, even with a bad credit history
When it comes to applying for a loan - people feel like they're going to have to go through a difficulty and drawn out process but, as an online lender our application is far from this.
You can complete the application and upload the supporting documents online quickly and with very little effort.
What you'll need to apply
To apply you must be a NZ citizen or resident that is employed full time, is 21 or older and that can provide us with bank statements, pay slips, a photo ID and a completed online loan application form. Once we've processed these we will make you a quick loan offer and send you a loan agreement form.
A stain on one's credit record should not have to mean that one will always be behind or stuck in life. With Admiral Finance, we want to help everyone make their goals and dreams a reality, which is why we offer bad credit loans to those who are in need.
We believe in simplicity
Life is difficult enough at times as it is - which is why at Admiral Finance we want to make life simpler. Unlike other lenders our services can be attained with minimal fuss and our clients can apply for a bad credit loan either by completing an online application form, or giving us a call on our toll-free number and we can get the ball rolling. No more need for long drawn out processes with endless paperwork and difficult to understand jargon.
Saving you time
Our online application will take you only 5 minutes to complete along with uploading your supporting documents. Applicants will receive an answer on their application within 1 hour after successful submission (*during working hours).
Getting your money
Once a loan application has been assessed and approved by one of our friendly and professional team members, successful applicants can expect their loan amount to be deposited directly into their chosen bank account or receive it through a cash cheque, the choice is theirs.
---
Eligibility & Requirements
22 years or older
NZ resident
Credit check
Can you provide security
Bank statements
---
Other Products & Services
Boat loans and boat finance
Home renovation loans
Debt consolidation loans
Car loans and car finance
Instant finance
Fast cash loans and fast finance
Bridging finance
Home renovation loans
Second mortgages
Unsecured loans
Business loans
Personal loans
---
Customer Reviews & Testimonials
My experience with Admiral Finance was spectacular! I was able to apply online and got an answer within minutes. I was able to pay off my daughter's medical expenses the next day. Thanks, Admiral Finance!"
Malachi R
— Wellington —
Such a convenience not having to stand in a bank waiting with a ton of paperwork. Quick and speedy online process and very friendly and efficient call staff.
Jessica S
— Dunedin —
What a positive experience. The process was so easy and convenient, I applied and the next day the money was in my account already!
Julie A
— Queenstown —
Previous
Next
Address
Physical Address
45 Mandeville Street, Level 1, Riccarton

,

Christchurch

,

Canterbury

,

8011

,

New Zealand
Postal Address
PO Box 36 606, Merivale, Christchurch, 8146, New Zealand
Opening Hours
Monday 08:00 – 16:45
Tuesday 08:00 – 16:45
Wednesday 08:00 – 16:45
Thursday 08:00 – 16:45
Friday 08:00 – 16:45
Saturday Closed during winter –
Sunday Closed –