Low-interest starting from 13.95%
Loans bad credit up to $50,000
Repayment up to 5 years
In-page navigation
---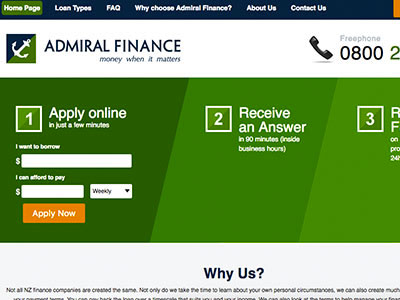 About Admiral Finance
When it comes to fair and understanding bad credit loans, Admiral Finance is there when you need it most.
The financial times that are being experienced these days are unlike it has ever been. As the saying goes, when the going gets tough, the tough get going. Fortunately, Admiral Finance makes it a little easier.
Anybody can get caught in bad debt, but Admiral Finance is there to help people with loans for bad credit in order to regain control of their finances. The financial help you need is only a click away.
A lender that gives you a bad credit loan
All mainstream lenders work the same way. They let you complete loads of forms and based on a computer-generated outcome, decide on whether you get a bad credit loan or not.
Admiral Finance is in a league of its own when it comes to bad credit loans. They take the time to listen to your situation, assess what you can afford, and then decide how to assist you financially. They have a totally unique approach to lending that will greatly benefit you.
When deciding on getting a bad credit loan, make sure you choose a lender that listens to your needs. Don't get caught in the mainstream lenders trap and end up in even more financial problems.
Why Admiral Finance rises out above the rest
Admiral Finance was started in 2003 by a chartered accountant called Dougal Shand. He realized that there was a need in the NZ market for a lender that listens.
He knew that many people were highly indebted and struggled to get a bad credit loan from mainstream lenders. Many banks were just too strict when it came to loans for bad credit and he wanted to change this.
What Admiral Finance can offer you
When it comes to service you can be sure that you will receive only the best from Admiral Finance. They put their customer's needs first, always.
Admiral Finance is able to assist people financially with more than just a bad credit loan. They offer personal loans, second mortgages, bridging loans, and many more. They have all your financial solutions in one place.
It's good to know that there is a lender that listens to you. It makes a big difference knowing that you and your needs are important.
Competitive loans for bad credit
Often times when you take out a loan you are adding to your financial problems without knowing it. Admiral Finance makes sure that whatever it is you need, you can afford it.
This works the same way with their bad credit loans. Knowing that you are already in a bad place they do everything they can to give you options that won't add to your financial problems. This is just another way Admiral Finance puts you first.
More and more people in NZ need help financially these days. It makes a big difference to know that NZ has a lender that works with compassion for its people.
Get a car loan from your favourite lender
Getting a loan for a car can sometimes be a daunting task especially when your credit score is not perfect at all. Admiral Finance knows this and has made available a car loan with the Admiral Finance difference.
Whether it is a brand new car that you have dreamed about forever or a second-hand car, they have the loan you need. With a car loan from Admiral Finance, you can have the loan you need within 24 hours. There are so many reasons to get your loan needs met by Admiral Finance.
Admiral Finance Product Details
Loan Type

Loans bad credit

Interest Rate

13.95 – 24.95% p/a

Loan Amount

up to $50,000

Repayment

6 months to 5 years

Decision

24 hours
We can help you lift the finacial strain, even with a bad credit history
Applying for a bad credit loan from Admiral Finance has never been easier and it will take you 5 minutes or less.
Requirements for a bad credit loan from Admiral Finance
You have to be no younger than 18 years of age.
If you are aged between 18-21 years, you will need someone to guarantee your loan.
You will need to secure your bad credit loan with an asset.
You need to be an NZ citizen or have a Permanent Residency Visa.
A valid photo ID will be required.
Three easy steps to acquiring your bad credit loan:
Step one:
When you click on the apply now button you will be directed to the bad credit loan application. Complete this easy application and submit it.
Step two:
Your bad credit loan application will then be assessed. If you are applying for your bad credit loan during business hours, a helpful and friendly consultant will contact you within 60 minutes.
Your bad credit loan application will then be discussed with you and the best option will be decided on.
Step three:
Once everything has been completed and submitted, Admiral Finance will then decide on the approval of your bad credit loan. If your loan has been approved you will be pleased to hear that you will have your funds in your account within 24 hours.
Choosing Admiral Finance for your bad credit loan
Sometimes people just need a push in the right direction. With the current financial situation that is experienced, more and more people need that financial push.
Admiral Finance brings NZ reliable, competitive and compassionate finance options. They listen to the needs of their customers and strive to give them the best possible financial assistance. Make sure you choose the right lender. Choose Admiral Finance and get your finances back on track the right way.
The benefits of Admiral Finance
You will enjoy personalized service.
They contact you within 60 minutes of applying within business hours.
Their loans are paid within 24 hours.
Admiral Finance offers competitive loans that are flexible.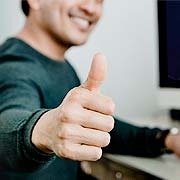 Admiral Finance is a trusted & reliable provider of loans bad credit
In our review, Admiral Finance adheres to the compliance criteria in accordance with Credit Contracts and Consumer Finance Act (CCCFA), where the granting the loan will not cause financial distress to the consumer.
Admiral Finance is a registered credit provider in New Zealand: FSP 9421
Customer Reviews & Testimonials
"
My experience with Admiral Finance was spectacular! I was able to apply online and got an answer within minutes. I was able to pay off my daughter's medical expenses the next day. Thanks, Admiral...
Malachi R
— Wellington —
Such a convenience not having to stand in a bank waiting with a ton of paperwork. Quick and speedy online process and very friendly and efficient call staff.
Jessica S
— Dunedin —
What a positive experience. The process was so easy and convenient, I applied and the next day the money was in my account already!
Julie A
— Queenstown —
Ever since I got a bad credit loan from Admiral Finance, my life has changed for the better. I have more money to spend on other things. I am so glad I chose Admiral Finance. They are an outstand...
Brown A
— Christchurch —
I was in such a bad position financially. A friend told me about the bad credit loans that Admiral Finance offers and I am so grateful that I took her advice. I am getting my finances back on tra...
Cooper W
— Auckland —
I was referred to Admiral Finance by a close family friend. I went onto their website and applied for a bad credit loan. I was so pleased to see how quick and easy the process was and I had my mo...
Anderson T
— Nelson —
Admiral Finance Contact Details
Contact Number
E-Mail
Website
Physical Address
45 Mandeville Street, Level 1, Riccarton

Christchurch

Canterbury

8011

New Zealand
---
Postal Address
PO Box 36 606, Merivale, Christchurch, 8146, New Zealand
Opening Hours
Monday

08:00 – 16:45

Tuesday

08:00 – 16:45

Wednesday

08:00 – 16:45

Thursday

08:00 – 16:45

Friday

08:00 – 16:45

Saturday

– Closed

Sunday

– Closed