Low-interest starting from 9.95%
Loans bad credit up to $100,000
Repayment up to 5 years
In-page navigation
---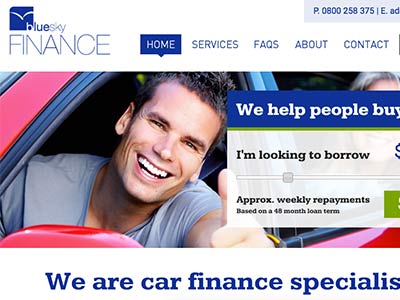 About Blue Sky Finance
Blue Sky Finance is a registered credit provider and we work with a variety of lenders.
If you are looking for a loan provider for a loan with bad credit, Blue Sky Finance can assist you. Personal or business loans can be approved in hours and paid out within the same day.
Apply online
There are two online options that you can choose from, depending on your requirements. Options include secured and unsecured personal loans to assist you with vehicle finance, debt consolidation and/or business finance.
We finance over 8 000 loans!
Blue Sky Finance currently finances over 8 000 loans across New Zealand and we are ready to help you!
What Blue Sky Finance can offer you
At Blue Sky Finance you will find a number of services, which include personal loans, business loans, debt consolidation and vehicle loans.
Loans paid out within the same day
We aim to make the process as easy as possible and the entire process is therefore completed online. Not only do we provide the best possible options for online loan application but we can approve your loan and pay the loan amount over to you within the same day.
We also aim to offer you the very best service in the industry and us proud ourselves on our speedy turnaround times of processing loans. With our various loans available, you are sure to find one to suit your needs.
Blue Sky Finance Product Details
Loan Type

Loans bad credit

Interest Rate

from 9.95%

Loan Amount

up to $100,000

Repayment

4 weeks to 5 years

Decision

24 hours
At Bluesky Finance you could be approved for a loan within minutes
The entire loan process is done online, ensuring that you experience an optimal level of loan application and approval.
We guarantee the best interest rates as we shop around to find the best loan provider to suit your requirements. Applicants are required to be over the age of 18, must be a permanent resident in New Zealand and must be earning an income.
We welcome a number of potential clients such as persons with a poor credit history, students, low-income earners, super-annuitants and beneficiaries. The criterion that we will look at includes your ability to repay the loan, your income and residence history, residency status and your credit history.
Easy online application
You have two options when completing the online application to obtain a loan with bad credit at Blue Sky Finance. These options include the Full and Express online application.
Get your dream car with fast approval
Applying for a loan with Blue Sky is as easy as pie! Within four simple steps, you can be driving away in style with your spiffy new wheels. Once you have found the perfect car for you, whether it is new or secondhand, you can complete our simple loan application online. We will then assess your application and, if you are approved, the money can be paid into your account within two hours. Once all the paperwork is settled on the dealer's side you can drive home in comfort. Get the car of your dreams today without the headache.
Personalised and fully customizable loan options
The great thing about our loans is that we ensure that they can be stretched as far as what our customer needs them to. Everyone is different and we all have a different preference which is why we understand that your loan package could require some minor adjustments. We will tailor our loan deal to ensure that it represents your unique financial circumstances. Cookie cutter deals are not our style; not everyone can fit into the same financial mould.
Customer Reviews & Testimonials
"
With my son heading off to university soon I knew it was time to start doing some car shopping. We found the perfect car for him at excellent value and were concerned that he would lose the car b...
Randy M
— Ohakune —
At first, I was sceptical to complete applications online but once I realised how safe and secure borrowing is through Blue Sky I did not have a worry in the world. There are only clear skies ahe...
Shannon C
— Okuku —
With the assistance of a debt consolidation loan from Blue Sky, I was able to regain control of my finances. No more piles of unpaid credit cards – now only one single monthly repayment and a who...
Tina P
— Amberley —
After receiving a larger than expected medical bill I knew that it was going to be a difficult month. But with the assistance of Blue Sky Finance, I was able to get the situation under control. T...
Nicole C
— Mayfield —
Blue Sky Finance Contact Details
Contact Number
E-Mail
Website
Physical Address
Level 1 - Unit 8 212 Antigua Street

Christchurch Central

Christchurch

8011

New Zealand