Low-interest starting from 9.95%
Loans bad credit up to $100,000
Repayment up to 5 years
In-page navigation
---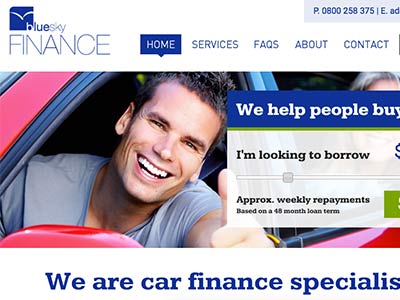 About Blue Sky Finance
If you are in need of immediate cash but your credit score is too bad to qualify for a traditional loan, Blue Sky Finance is your answer.
Real people working to make your dreams come true the same day. Blue Sky Finance are brokers who arrange bad credit loans in New Zealand.
They work with a number of reputable lenders to find the best-secured loans for bad credit. Blue Sky Finance personalizes the best deal according to your needs and circumstances. As vehicle finance experts, they made applying for a car loan quickly and easy.
Applying is simple and straightforward
Blue Sky Finance aims to pay out accepted loans the same day. Approved purchasers can borrow the money for up to 60 months. When it comes to brokering with their top lenders, Blue Sky Finance puts you first. They want to be the best at arranging bad credit loans in New Zealand by giving you a personalized, down-to-earth experience.
What Blue Sky Finance can offer you
Blue Sky Finance works hard to get the best rates for their customers, starting at 7.95 percent.
The shortest loan duration is six months, and the longest loan length is five years. The great part is that they specifically designed their loans for bad credit no matter what type of loan you are looking for.
Easy car loans for bad credit
Blue Sky Finance considers applications from people with all types of credit, including those with bad credit or no credit. Purchasers need to be 18 or over, a permanent New Zealand resident with a driver's license, and have a regular income of $500.
Secured loans for any type of vehicle
Motorbikes, boats, jet skis, trailers, caravans, and RVs can all be financed through Blue Sky Finance. They arrange finance for all types of new and used vehicles.
Blue Sky Finance Product Details
Loan Type

Loans bad credit

Interest Rate

from 9.95%

Loan Amount

up to $100,000

Repayment

4 weeks to 5 years

Decision

24 hours
At Bluesky Finance you could be approved for a loan within minutes
Blue Sky Finance can assist with both short and long-term personal loans for bad credit for a variety of reasons.
Personal loan applications for your wedding, holiday, and home renovations are accepted. You must be at least 18 years old and a permanent New Zealand resident with a steady source of income. They assist you in obtaining a personal loan of at least $5000.
Steps to apply online:
Step 1:
The applicant begins the process by filling out an online application or by speaking with a representative one-on-one. Blue Sky Finance guarantees that your bad credit loan will be approved in as little as two hours.
The ability to repay your loan, your credit rating, and the loan's security are all important considerations that the lender considers during the approval procedure.
Step 2:
They will then contact you to get any additional documentation required. You might need to provide them with an electronic copy of your driver's license as well as a copy of your most recent bank statement.
Step 3:
They will then do a thorough search based on your date of birth, current salary, a number of dependents, work status, among other things. You can expect them to find you the finest bad credit loan NZ has to offer, within minutes.
Apply online and receive your approved bad credit loan today
Real brokers are striving to find the best loan for bad credit from leading lenders for you. They can help you make your dream come true even today. A trusted team with the necessary experience to negotiate the best possible loan for bad credit according to your specific needs.
Benefits of applying with Blue Sky Finance
The process is easy and dignified.
In as little as two hours, you may get a pre-approval.
Interest rates are tailored to the specific needs of each customer.
Open and honest communication throughout the application process.
Loans are suited to the needs of the applicant.
Personalized, down-to-earth service.
Online financial assistance
The process to secure a loan is online
Blue Sky Finance may assist you in obtaining a pre-approved loan for bad credit, which will offer you greater negotiation leverage. They have extensive expertise assisting with all forms of financial matters. Years of experience providing secured loans for bad credit
Blue Sky Finance strives to be the best by keeping things real and giving individualized and straightforward service. You can acquire a loan for as little as $1500 from Blue Sky Finance. They provide personal assistance and have assisted over 12 000 consumers in obtaining secure loans for bad credit.
Finance of easy loans for business needs
They help find easy loans for bad credit from a number of leading lenders. Their services include assisting companies with short-term cash flow problems. They may also help the applicant streamline their finances by consolidating all debts into a single, easier-to-manage loan.
Customer Reviews & Testimonials
"
With my son heading off to university soon I knew it was time to start doing some car shopping. We found the perfect car for him at excellent value and were concerned that he would lose the car b...
Randy M
— Ohakune —
At first, I was sceptical to complete applications online but once I realised how safe and secure borrowing is through Blue Sky I did not have a worry in the world. There are only clear skies ahe...
Shannon C
— Okuku —
With the assistance of a debt consolidation loan from Blue Sky, I was able to regain control of my finances. No more piles of unpaid credit cards – now only one single monthly repayment and a who...
Tina P
— Amberley —
After receiving a larger than expected medical bill I knew that it was going to be a difficult month. But with the assistance of Blue Sky Finance, I was able to get the situation under control. T...
Nicole C
— Mayfield —
They gave me the opportunity to get a loan despite my poor credit ratings and they made the whole online process simple. It takes only one form and the loan happened the very same day.
Gayford M
— Auckland —
Never thought it's possible to apply for a loan online and the funds get transferred on the same day.
Mitchell A
— Canterbury —
I had a sudden need to get a loan and the whole process happened within 24 hours. They have a strong network of lenders and their response time was quick.
Moody P
— Christchurch —
Blue Sky Finance Contact Details
Contact Number
E-Mail
Website
Physical Address
Level 1 - Unit 8 212 Antigua Street

Christchurch Central

Christchurch

8011

New Zealand