Low-interest starting from 75%
Loans bad credit up to $5,000
Repayment up to 12 months
In-page navigation
---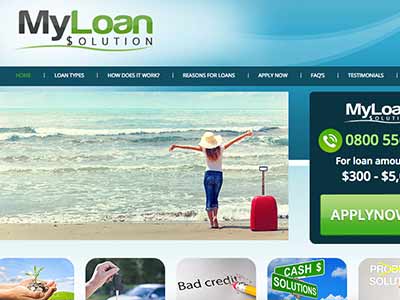 About My Loan Solution
My loan solution is one of New Zealand's most popular bad credit loan providers, they are always seeking to improve their service.
Get in contact with them to learn how they can assist you in making the most of your money to achieve financial liberty.
Loans for bad credit
Getting easy loans for bad credit with My Loan Solution is quick and efficient. After submitting your application and any required documentation, you should receive a response within two business hours.
If you require assistance with your application, their knowledgeable financial consultants are available to assist you through the process of receiving the funds into your account.
High-quality loans for bad credit at low prices
There are no surprises when it comes to interest rates because they are set at a specific amount for a set period. For early repayment, there are no account-keeping or early-termination costs at all.
Adaptable bad credit loan repayments
Direct debit from your bank account is the most common method of payment, but you can also request that your employer make the deposit directly from your paycheck. If you want to pay off your loan early, you can make additional payments without incurring any additional fees.
Committed personnel to assist you with loans
Customers have always been treated with a smile, thanks to a team of employees who are enthusiastic, devoted, and professional. When they take the time to learn about you and your financial goals, they tailor their easy loans for bad credit offerings to fit your specific requirements.
What My Loan Solution can offer you
You may feel as if you have nowhere to turn if you find yourself in a financial bind, and they are aware of this.
The team at My Loan Solution is committed to providing you with a hassle-free financial solution, no matter what your situation may be. Smaller amounts are ideal for unsecured bad credit loans, which can be approved fast and easily.
Secured loans for bad credit
Large purchases or long-term financial commitments might be made easier with a secured loan from My Loan Solution. They have a wonderful loan option for higher loan amounts, and they may also be paid over a longer period with secured loans for bad credit.
A secured loan is a loan that is backed by collateral like a house or car. If you are unable to pay the loan will be covered by the collateral.
Get your loan regardless of bad credit
At some point in their lives, most people will find themselves in a situation where they lack the funds to pay for unforeseen expenses. At My Loan Solution, they recognize that unexpected events might occur at any moment.
The only thing you can count on in life is that things will go haywire from time to time. If you find yourself in a situation where you need money now, My Loan Solution offers bad credit loans to help you out.
Helps you solve your financial needs
Your loans for bad credit start at $300 and can go up to $5000, and the repayments can be paid for up to 12 months. The application process is simple and accessible online.
My Loan Solution Product Details
Loan Type

Loans bad credit

Interest Rate

75 – 85% p/a

Loan Amount

up to $5,000

Repayment

3 months to 12 months

Decision

24 hours
Get a bad credit loan today! Its that easy
Spend less time and energy worrying about your finances by taking action immediately.
Being on time and making all of your repayments will help you raise your credit score at the same time. Apply today and get the finances you need.
Steps to apply for loans for bad credit
Step 1:
The best bad credit loans NZ has to offer can be applied for 100% online. On their website, you can fill out the application and submit it for approval.
Step 2:
You can fax or email any supporting documentation that is required to them after your application has been submitted. These documents will be used to verify your identity, contact details, and ability to repay the loan.
Step 3:
After you have been approved for your bad credit loan, they will send you the loan agreement to sign and send back to them to be processed.
Step 4:
They will then pay the money into your designated bank account for you to access.
Criteria when applying for bad credit loans in NZ
Document of identification.
Two recent paychecks.
Your bank statement for the last three months.
You'll receive a bill in the mail that includes your name and address on it.
Benefits you'll get from a My Loan Solution bad credit loan
Streamlined and easy loans for bad credit
Apply at any time and from any location with an Internet connection.
A free and non-binding application.
Loans can be repaid in a variety of different ways.
Customer Reviews & Testimonials
"
I didn't think that I would be able to find a way out of my financial predicament. A big thank you to My Loan Solution for being my solution!
Ian T
— Willowby —
This morning I sat with handfuls of credit card bills and this afternoon I have only one single loan document. Thank you for helping me to better organise my finances.
Jenny P
— Haupiri —
When it comes to financing I believe that finance should be fair and that the employees need to be competent and My Loan Solution ticked off every box! Good job guys!
Karen F
— Spring Creek —
I appreciate your assistance so much. Through it all, you've been fantastic and have helped me out in ways you can't imagine!
Jameson B
— Oamaru —
I always come back to you when in need of a little extra cash. I'll be sure to pass your name along to every one of my family and friends.
Roux A
— Hastings —
When my vehicle broke down while I was on a work trip, you granted my loan within an hour of my application. You are the reason I was able to get back to my family and friends in one piece. It wa...
Maree D
— Whanganui —
My Loan Solution Contact Details
Contact Number
E-Mail
Website