Low-interest starting from 227%
Loans bad credit up to $1,000
Repayment up to 45 days
In-page navigation
---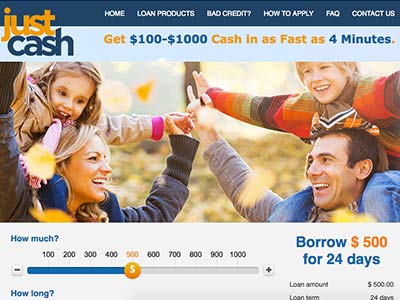 About Just Cash
Just Cash offers a first-rate customer service experience and we find you the financial solution that you need.
Our loan application process is quick so that you can get back to the more important things in life and not worry about your finances. Our loan products are charged at a low-interest rate and repayment terms can be customized to suit your circumstances.
The streamlined process
When you need money, you usually need it in a hurry. Most people don't have time to visit the bank or spend hours in queues only to be told that you don't have the correct documents or worse that they won't be able to assist you at all!
At Just Cash, we take the hassle out of applying for a loan. There is no need to visit a branch. Simply complete the online application form and receive your outcome.
Opening the door for those with bad credit
When you have bad credit it can seem like everyone slams the financial door in your face and declines any loans that you apply for due to your low credit score and bad credit history. At Just Cash, we offer financial products specifically designed for those that have bad credit.
What Just Cash can offer you
We offer a wide range of financial products these include short-term loans or payday loans.
These types of loans are perfect for when you need a little extra cash and are easy to obtain and apply for.
Various short term loan types available
Short term loan products include payday loans and quick cash loans. Even if you have a low credit score or a poor credit history you may still apply for a loan as we do not perform a credit check.
A bad credit score is no problem
When you apply for a loan with us, we don't perform a credit check so your bad credit won't be taken into account. Bad credit loans have a higher interest rate as the lender is taking a bigger risk of lending you money.
Payday loans are easy to apply for
Payday loans allow those with bad credit to apply for a loan that is less than $1000 and needs to be repaid by your next payday in one payment. This can be quite problematic if you are already struggling financially and may force you to rely on additional loans which quickly traps you in a vicious debt cycle.
Our bad credit loans allow you to borrow a small amount of money over a short period of time. Once you have repaid the loan and proved to us that it isn't risky to lend you money. You will qualify for a larger amount over a longer period of time the next time that you apply for a loan.
Just Cash Product Details
Loan Type

Loans bad credit

Interest Rate

from 227%

Loan Amount

up to $1,000

Repayment

7 days to 45 days

Decision

2 hours
Just Cash has a quick loan solution for all bad credit clients
It is easy to abuse payday loans because they are very easy to obtain but if you don't manage them correctly you could find yourself in real financial trouble.
It's very easy to repay the loan
When you apply for a bad credit loan you will be required to set up a direct debit on your account. The full amount of the loan will be debited from your account on your next payday. This makes it less risky for us to lend you money as your salary acts as security against the loan.
If your direct debit is dishonoured your account will be monitored and the full loan amount will be debited the next time a payment is made into your account. You may also be charged penalty fees and extra bank charges.
Having a bad credit report
If you have a bad credit report this will means that you have a low credit score and this will make it very difficult for you to apply for a loan.
Your credit report records all of your payment history, both good and bad. You then get a score that will show potential lenders how much of a risk it would be to lend you money. If your credit score is good then our loan application will be approved and you will be charged a low-interest rate.
If you have missed payments or not paid your bills on time your credit score will be very low and the chance of your loan being approved will be much lower. If you are offered a loan then you will need to provide collateral or agree to a higher interest rate.
Know where you stand
Before you apply for a loan you should source a copy of your credit report. There are many websites that provide you with a free credit report. By knowing where you stand financially you will be able to determine which loan solution would suit you best.
Check your credit report for any errors and make sure that any settled accounts are removed from the report. Apply for correction immediately if your information needs to be corrected.
If your credit score is very bad you could consider applying for a secured bad credit loan. Only apply for a payday loan in the case of an emergency once you have exhausted all other options.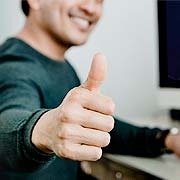 Just Cash is a trusted & reliable provider of loans bad credit
In our review, Just Cash adheres to the compliance criteria in accordance with Credit Contracts and Consumer Finance Act (CCCFA), where the granting the loan will not cause financial distress to the consumer.
Just Cash is a registered credit provider in New Zealand: FSP70021
Customer Reviews & Testimonials
"
After being pushed around by financial institutions and lenders I was welcomed with open arms to Just Cash. They gave me the chance that no one else was prepared to and I will be forever grateful...
Fred M
— Springfield —
Having a poor credit record can make a person feel like a sore thumb. But the Just Cash employees made me feel at ease and comfortable. Very impressed with the level of professionalism and friend...
George M
— Russell —
Just Cash Contact Details
Contact Number
E-Mail
Website
Physical Address
132 Hurstmere Road

Auckland

Auckland

0622

New Zealand
---
Postal Address
PO Box 33-1009, Takapuna, 0740, New Zealand
Opening Hours
Monday

09:00 – 17:00

Tuesday

09:00 – 17:00

Wednesday

09:00 – 17:00

Thursday

09:00 – 17:00

Friday

09:00 – 17:00

Saturday

– Closed

Sunday

– Closed