Rating based on 1,056 reviews
---
ASB Bank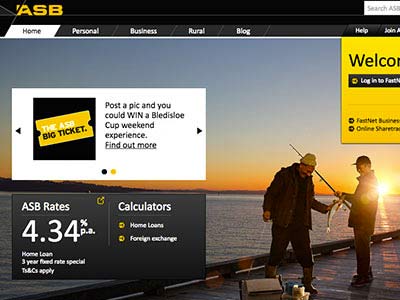 About ASB Bank
Our clients don't see us a merely a credit provider who sees them as nothing more than a digit in a system - they see us as their financial partners who work with them to help them achieve their financial and life goals.
Our personal loan products are competitively priced and are available entirely online.
Growth and evolution
In an effort to provide our customers with the most flexible financial products on the New Zealand market we have been constantly evolving our offerings and growing as a company. From small unsecured personal loans to large secured debt consolidation loans we have a varied range of products to suit you.
What ASB Bank can offer you
When customers consider which lender they'd like to work with - an important factor is, of course the rate offered but, they also consider speed, convenience and customer service to be a major factor.
At ASB Bank we meet all these needs and more.
Our car loans of up to $1 million
We offer unsecured car loans of up to $2,000 and secured loans of up to $1 million. Our rates range from 12.95% to 17.95% per annum and you can apply entirely online and hear from us in just 24 hours. Our car loans are designed to help with the purchase of both a new and used car - the choice is yours.
---
Interest Rate
From 0 %

To 0 % Per annum
---
---
In a Nutshell
Average processing time 24 hours
Online application
In-store application
Unsecured loan option
Secured loan option
Early repayment
---
Getting a car loan through ASB Bank is easy and affordable
Our loan products are designed to help everyday Kiwis make their dreams come true (even if you are not an ASB Bank customer, you can still apply for a loan). Whether this means buying their first car or travelling overseas - a vehicle loan from ASB Bank can make it happen!
Providing security for your loan
In order for the customer to qualify for our loan products, they are required to have a decent credit history. This limits our risk of lending and allows us to offer customers lower rates overall. If you have a blemish or two we may still consider your loan application however, this cannot be guaranteed and you will likely have to provide security.
Loans are processed in just 24 hours
Provided that you have sent us all of your supporting documents, including valid proof of address and a fully completed application form we will be able to process your personal loan application within 24hours. For larger loan amounts you may need to provide security in the form of a property.
Get the funds you need quick
As soon as your loan has been approved and your loan documents have been signed, if you're taking out an unsecured car loan, we'll usually deposit the money into your account same day. If you're taking out a secured car loan, you can expect to get your funds within 48 hours.
Early repayment without penalty
You can make extra payments or pay off your loan early without having to worry about any penalty charges. This allows you to have the flexibility of repaying your loan in a way that is most suitable for you, so if you are in a position where you can pay it off sooner than expected, go ahead. We won't force you to stretch out your repayments longer if you can take care of it now.
Calculate your repayments
Make use of our online calculator to work out an estimate of how much your repayments could be for the amount you would like to borrow and the timeframe you want to borrow for. So you can get an indication of how much a car loan from us could cost you, giving you an idea of how much you will need to budget. Keep in mind, however, that this is just a rough estimate and the final figures for your loan could be higher or lower depending on your personal circumstances.
---
Eligibility & Requirements
18 years or older
NZ resident
Employed full-time
Self-employed
Credit check
30 day bank statements
Valid identity document
Utility bill or other (proof of address)
Bank statements or payslips (proof of income)
---
Other Products & Services
Accounts and Cards
Insurance
Loans and Mortgages
KiwiSaver and Investments
International and foreign
---
Customer Reviews & Testimonials
I needed to get a new car after having my old one for 12 years. A friend of mine told me to try ASB Bank and I must say that it's been a while since I last received such great service. Every person I spoke to was kind, attentive and knew what they were doing. I trust ASB completely and if I ever need another car loan, ...
Kate W
— Queenstown —
It was unbelievably easy applying for my car loan. The entire process was so simple and straightforward.
Daniel C
— Hamilton —
ASB Bank was the third lender I approached about getting a car loan. After being very disappointed with the first two who were rude and treated me more like a number than an actual person, my expectations weren't very high when I decided to give ASB a try. However, after getting my loan without any hassle, I'm glad I a...
Laura S
— Christchurch —
ASB Bank is definitely the company you want to talk to if you need a car loan. Their fantastic rates and flexible terms meant that I could get a car loan that was affordable for my needs, which is not always easy to find. Thank you ASB Bank
Jonny W
— Wellington —
Previous
Next
Address
Physical Address
Westfield Centre, 219 Don McKinnon Drive

,

Auckland

,

Auckland

,

0632

,

New Zealand
Postal Address
PO Box 35, Shortland Street, Auckland, 1140, New Zealand
Opening Hours
Monday 09:00 – 16:30
Tuesday 09:00 – 16:30
Wednesday 09:00 – 16:30
Thursday 09:00 – 19:00
Friday 09:00 – 16:30
Saturday 09:00 – 16:30
Sunday 10:00 – 16:00