Low-interest starting from 12.95%
Car loans up to $1,000,000
Repayment up to 7 years
In-page navigation
---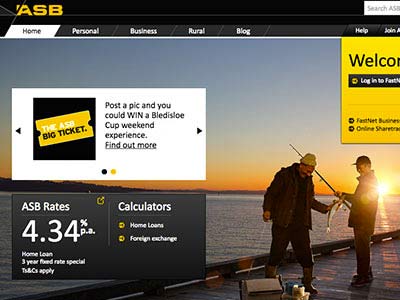 About ASB Bank
Owning your very own car is everyone's dream, but not everybody can afford it. This is where ASB Bank comes in.
Getting a car loan isn't always easy and there are always so many boxes that you have to check before even thinking of applying for a car loan.
ASB your go-to vehicle finance provider
ASB Bank is a New Zealand-based financial provider that can help you with loans from personal loans to car loans and so much more. Committed to their customers, ASB Bank has been able to pave the future for so many Kiwis nationwide.
To find a financial provider that truly stands by the fruits of life's values is honestly very scarce. Integrity, care, passion, courage, and unity are values by which ASB Bank firmly stands by and they continue to follow these values with every customer they help.
ASB Bank goes a long way back
When the Auckland Savings Bank was opened, on 5 June 1847, they promised to serve the community in a way that they could help their own people grow. Since then, ASB Bank has diversified its methods and solutions by using the way people have changed their thinking over the years.
Innovative financial solutions and new ways of banking have been the result of being a part of the industry for decades.
Affordable and flexible vehicle finance
By offering you competitive rates and financial assistance of all kinds, ASB Bank can reach financial heights for you that you have never even dreamed of reaching. Providing you with great financial services and options to your financial dilemmas.
You can have the opportunity to borrow a car loan for up to 7 years, giving you the optimal time to pay it back, without any bad credit history building up on your name in the process.
What ASB Bank can offer you
You can obtain a car loan through ASB Bank in just a few simple and hassle-free steps.
On the website, under the link car loans, you will see there is a loan calculator where you can put in the amount that you would want to borrow, and it works out how much you will need to pay back over time.
Taking out a car loan with ASB Bank means that you have a fixed interest rate of 12,90% per annum. This is a fairly low-interest rate and that is why ASB Bank will always be one of the most competitive car loan companies in New Zealand.
Buy your car cash
With them, an unsecured personal loan can also be used as a car loan. This means that the minimal amount that you can apply for is $2000. This will enable you to receive your car loan before you buy your car, giving you the freedom of shopping for a car with cash in hand.
Vehicle finance repayment terms
Choosing the repayment term that suits you, is always a great benefit when taking out car finance because not everybody has the same kind of financial situation.
Some people might want to pay off a loan as fast as possible and can afford to do so, and some people would prefer to take their time in paying off their car over a longer stress-free period.
With ASB you have the flexibility to choose your repayment term and tailor the car loan to your needs. Your options will range from 6 months to 7 years, giving you ample opportunity to choose the option that truly suits you as an individual.
Your ASB car loan without a fuss
You can apply for a car loan to the value of an amount above $2000. As long as you meet the criteria, you can apply and be approved within 48 hours.
ASB Bank Product Details
Loan Type

Car loans

Interest Rate

12.95 – 17.95% p/a

Loan Amount

up to $1,000,000

Repayment

6 months to 7 years

Decision

24 hours
Getting a car loan through ASB Bank is easy and affordable
If you are having any trouble applying online, you can also call the contact number provided and a friendly service agent will assist you.
If you ever have any other inquiries on your personal or on a future personal loan, never hesitate to contact ASB Bank on their number provided. They will gladly help you through your situation and have you driving away in your new ride in no time.
Their criteria
You need to be over the age of 18 years.
You need to be earning a wage or salary.
You need to be able to supply your employment details.
You need to provide a form of identity.
You need to be a New Zealand citizen.
There are many ways to apply for a car loan
Existing customers can apply on the Fastnet link provided on the website. If you are not an existing customer, you can click on the Apply Online link.
The step-by-step online application process
Step one:
You will need to click on Join ASB in order to complete the car loan application.
Step two:
Choose the right account for you. Once you have decided which account will suit you best, click on the Apply Now button below the account option you have chosen.
Step three:
Follow their easy vehicle finance application process and submit to receive confirmation.
Once your ASB Bank car loan application has been received and confirmed, and approved, you will receive your car loan cash within 24 hours of finalization.
When you take out an unsecured car loan, your cash is usually in your account within 24 hours of approval. The great part is that they no longer work with secured vehicle finance.
Benefits of a car loan with ASB Bank
ASB Bank has been going for centuries already and knows what they are doing.
ASB Bank car loans are a trustworthy and reliable option for you.
The interest rate on an unsecured personal loan is fairly competitive.
You can choose your repayment terms.
You can borrow money for up to 7 years.
You can apply online, or telephonically.
Impeccably transparent and second-to-none customer service.
Customer Reviews & Testimonials
"
I needed to get a new car after having my old one for 12 years. A friend of mine told me to try ASB Bank and I must say that it's been a while since I last received such great service. Every pers...
Kate W
— Queenstown —
It was unbelievably easy applying for my car loan. The entire process was so simple and straightforward.
Daniel C
— Hamilton —
ASB Bank was the third lender I approached about getting a car loan. After being very disappointed with the first two who were rude and treated me more like a number than an actual person, my exp...
Laura S
— Christchurch —
ASB Bank is definitely the company you want to talk to if you need a car loan. Their fantastic rates and flexible terms meant that I could get a car loan that was affordable for my needs, which i...
Jonny W
— Wellington —
I am extremely happy with the service received by ASB Bank.
Murray S
— Queenstown —
Banking with ASB Bank when I was needing car finance was a breeze for me. You can honestly see that this bank has been going for absolute years. Their service, the services they offer, and the fi...
Shane C
— Auckland —
I have never been so happy when making a financial decision as I did with ASB Bank. I eventually have my very own car and I am so proud to say that I have paid for every penny of it.
Julian S
— Dunedin —
ASB Bank Contact Details
Contact Number
E-Mail
Website
Physical Address
Westfield Centre, 219 Don McKinnon Drive

Auckland

Auckland

0632

New Zealand
---
Postal Address
PO Box 35, Shortland Street, Auckland, 1140, New Zealand
Opening Hours
Monday

09:00 – 16:30

Tuesday

09:00 – 16:30

Wednesday

09:00 – 16:30

Thursday

09:00 – 19:00

Friday

09:00 – 16:30

Saturday

09:00 – 16:30

Sunday

10:00 – 16:00