First Business Finance
Updated
Low-interest starting from 17,8%
Business loans up to $100,000
Repayment up to 5 years
In-page navigation
---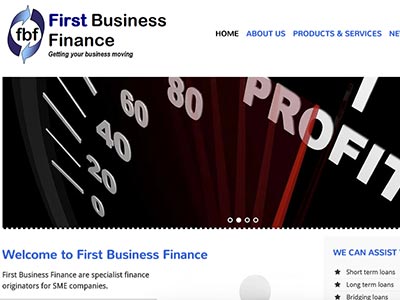 About First Business Finance
Make a wise business decision and get a low-cost business loan from a company that you can count on.
At First Business Finance they specialize in business loans – which means that unlike their larger competitors they're able to solely focus on empowering businesses to prosper. Enjoy professional, tailored business finance solutions from specialists that have more than 20 years of experience in the industry.
They understand business and can offer you more than the big guys – faster and more efficiently.
Business loans the right way
They deal with each business in a personalised way that allows them to ensure its success. By evaluating the business' finances and needs they are able to offer a tailored business loan that meets its specific needs.
If you want your business finance to be taken care of the right way, make your way to First Business Finance to start the online loan application process today.
What First Business Finance can offer you
There is nothing worse than applying for a business loan and then having to wait days if not weeks just to complete the process and have your loan credited to your business account.
At First Business Finance, they strive to process loan applications as fast as possible to ensure you can get back to work and do the things you do best.
Helping you grow your business
They offer loans that can help you grow your business whether it's new equipment, stock, or simply a cash flow issue that you need to sort out. First Business Finance also offers a completely online application so you can apply for the loan online and have it credited to your account in less than 24 hours.
If you need help or have a question for them
At First Business Finance, they work hard to offer the best customer service, so whenever you need a question answered or want a little help with something they will tend to it immediately.
You can contact them online, via email, by calling them, or by going in to see them at one of their branches – whichever way you choose you will be dealt with quickly and professionally.
First Business Finance Product Details
Loan Type

Business loans

Interest Rate

from 17,8%

Loan Amount

up to $100,000

Repayment

6 months to 5 years

Decision

24 hours
We understand business and are able to offer you more than the big guys – faster and more efficiently
All you need to do to get started is to contact them and they will help you.
Whether you have questions regarding their application fees or you would like to discuss their limit for a business loan NZ they will be there to assist.
Their company cares for you and that is why they are so passionate about what they do. All you have to do is phone them on the numbers provided and they will have you sorted out and your application processed in no time.
Loan fees and application fees
Yes, they do charge a small application fee, this is not payable when you submit your application. They will only request this from you when you are called to fill in the second part of your application.
You will be contacted for your second part if you have made it through the first section of processing. They are extremely transparent and will inform you of everything every step of the way.
Here's how you can get started with your loan application
Step 1:
When you are busy filling in your application, make sure to give as much information as possible. They would like to know about your business and what your business is built around. Their company is community-based and that way they will help you get the business loan you require.
Step 2:
They will then contact you and might request some supporting documents from you to finalize your application.
Step 3:
You can expect to receive the funds in your business account within 24 hours.
Choose FBF today
The businesses, communities, and economy of New Zealand are their first priority. This is why they work hard to deliver only the best business loans at the most affordable prices to kiwi businesses, whether it is large or small businesses. The great part is that you don't have to wait any longer, you can get the finance you need today.
FBF business loan benefits
Payouts within 24 hours.
Their loan processing is super-fast.
They are more lenient with their loans than traditional lenders.
They work hard to ensure the lowest possible price for you.
Tailored business loans for your specific business.
What they offer
At First Business Finance they offer a range of flexible business loans such as bridging finance, short-term working capital, long-term working capital, invoice financing, growth finance, plant and equipment loans, as well as vehicle and fleet loans.
You can apply by completing their online contact form, sending them an email, or calling them.
Customer Reviews & Testimonials
"
I applied for my loan got approved great service and quick and easy and no stress when applying.
Rebecca S
— Auckland —
When I applied for my first loan ever and was accepted and approved simple and quick and when I needed assistance I was helped.
Lee J
— Auckland —
I got great service and smiles from the branch with my queries about applying online for my loan.
Mike K
— Christchurch —
First Business Finance Contact Details
Contact Number
E-Mail
Website